View Our Employment Opportunities - Click Here
---
We are a great to our employees.
At Atlantic Sweeping & Cleaning, we tailor our services to meet your schedule, working 24 hours a day, 365 days a year is your business choosing between parking lot sweeping including parking lot sweeping, garage sweeping, and street sweeping. At Atlantic Sweeping & Cleaning, we offer a range of sweeping services, and maintaining its own fleet of sweeping equipment, which ranges from pick-up and dump trucks to small garage and truck mounted sweepers.
Inquire About Employment
Contact Us – Get A Free Estimate
Thank you for visiting Atlantic Sweeping and Cleaning, Inc. Please let us know how we can help you with any of your property maintenance needs.
Call, Fax or fill out our contact form below and an associate will get back to you as soon as possible.
---
Phone Number:
Phone 703-684-1095
Fax 703-684-1093
Mailing Address:
PO Box 10740
Alexandria, Virginia 22310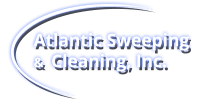 Overnight Address:
5221 Franconia Road
PO Box 10740
Alexandria, Virginia 22310